Alkanes and Nomenclature
Table of Functional Group Priorities for Nomenclature
Last updated: December 13th, 2022 |
How To Determine Which Functional Group Has "Priority" For Naming Purposes
Here's a little nomenclature dilemma.
Let's say you're trying to name a molecule. You're familiar with the familiar naming suffixes like -ol, -ene, -ane, -oic acid and so on. But then you come across a molecule which has multiple functional groups.
What do you do? What suffix do you give the molecule?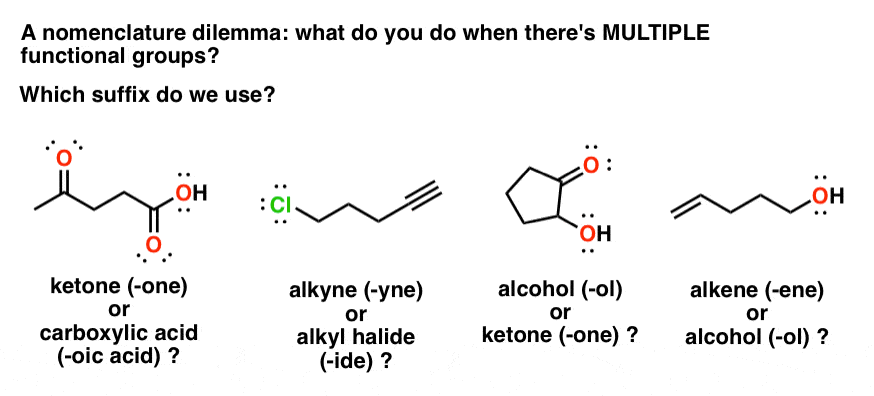 We need some kind of priority system for nomenclature. And so, IUPAC (think of the "Ministry of Magic", but for chemists) has developed one. If you have a molecule with, say, a carboxylic acid and a ketone you consult the table. T
he functional group with the highest priority will be the one which gives its suffix to the name of the molecule.
So in example #1 above, the suffix of the molecule will be "-oic acid" , not "-one", because carboxylic acids are given higher priority. However, if a ketone is present with an alcohol (example 3) then we will use the suffix, "-one" because ketones have a higher priority for nomenclature than alcohols.
[You might ask: what is this based on? It's an arbitrary agreement by IUPAC [source], although note that there is some correlation between the oxidation state of the carbon and the priority (more oxidized groups tend to be higher priority). However this really is an example of something you have to either look up , memorize, or have a computer do for you. It's not conceptual. ] See Note 1.
Highest Priority Groups: Carboxylic Acids, Sulfonic Acids, Esters, Acid Halides, Amides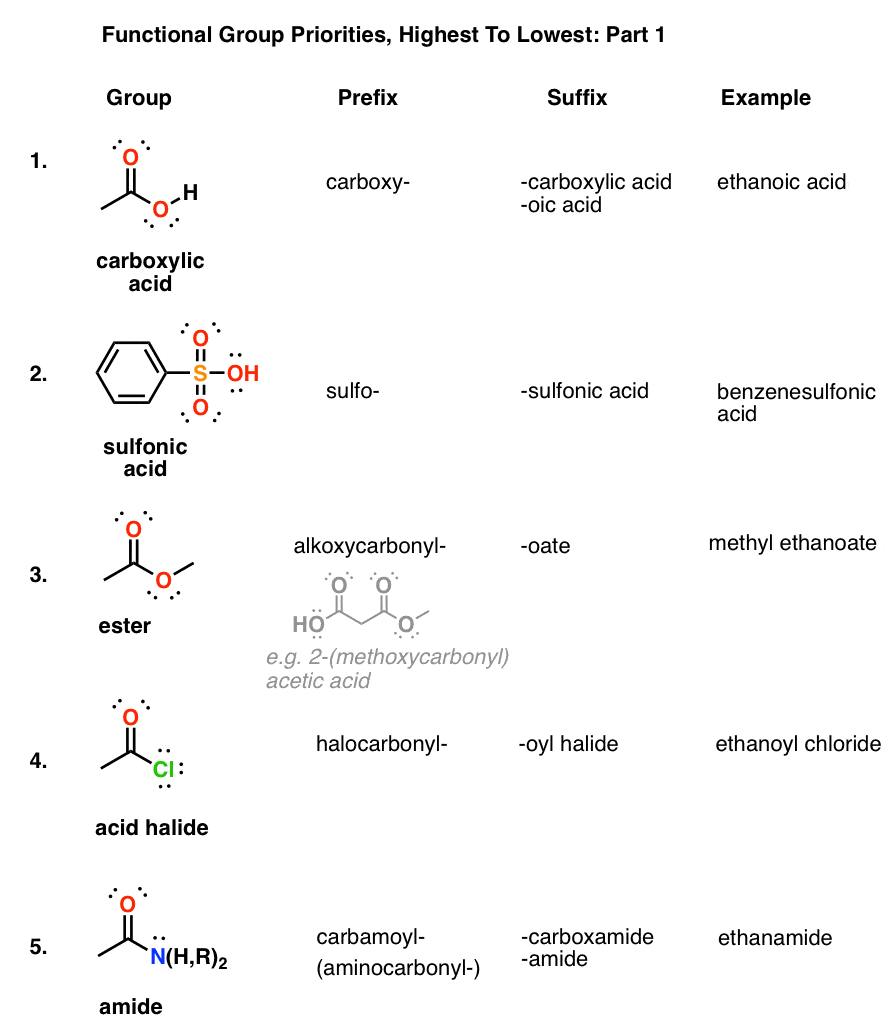 Note that with the exception of sulfonic acids, these are all carboxylic acid derivatives. IUPAC goes into way more detail than we need to here.
The "seniority rules" continue in the following order, where we are cherry-picking the most common examples. [Note 2]
Next In Line: Nitrile, Aldehyde, Ketone, Alcohol, Thiol, Amine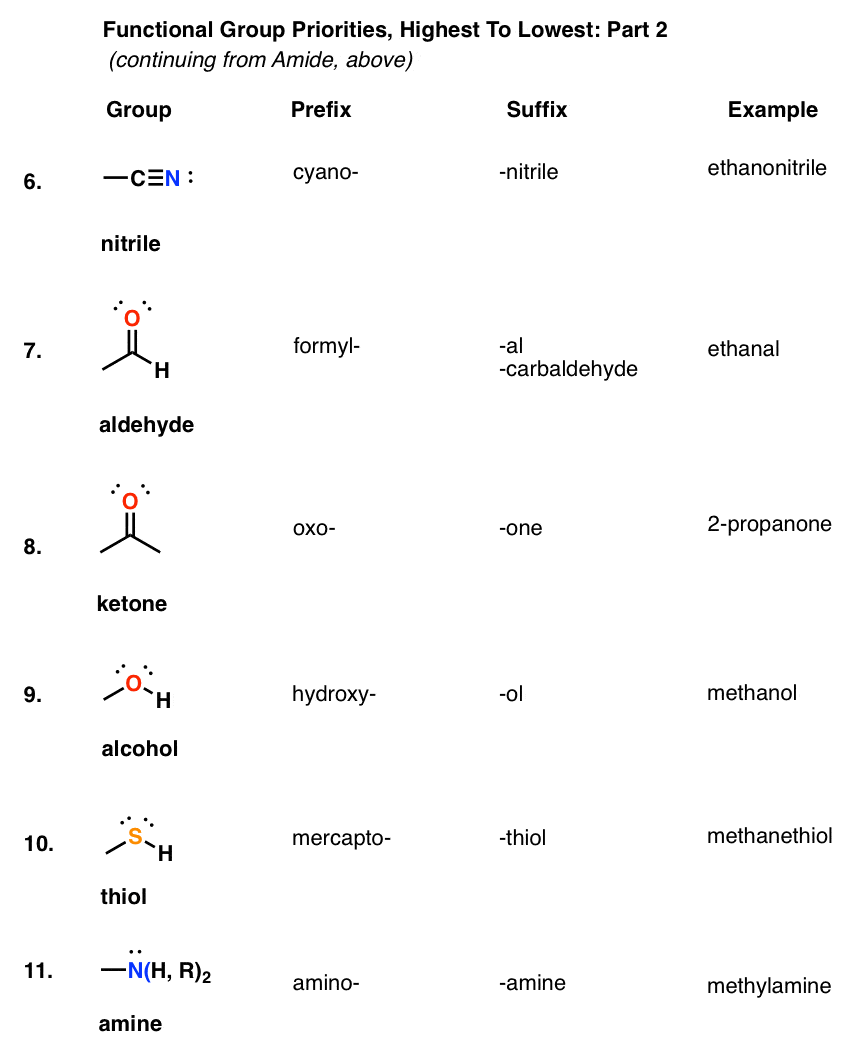 Again, this is not a complete list – we're cherry picking the most commonly encountered functional groups here.
Alkenes And Alkynes
If carbon-carbon multiple bonds are present in the molecule, they are considered as substituents with a priority (or "seniority", according to IUPAC) lower than that of amines.
So for a molecule with an alkene and an alcohol, the alcohol has priority and the molecule has the suffix, "-ol". The presence of the double bond is noted with the locant followed by the prefix, "en-". For example, pent-4-en-1-ol.
If no higher-priority groups are present, the suffix for a molecule containing an alkene will be "-ene", such as in pent-1-ene.
For an alkyne, the corresponding prefix is "-yn" and the suffix is "yne".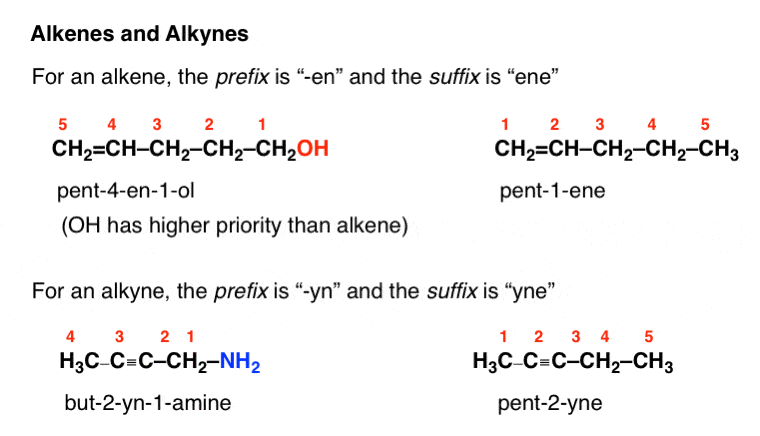 At this point the methodology for naming molecules changes slightly. In the absence of one of the above functional groups, the suffix will always be "-ane", "-ene", or "-yne", depending on whether any unsaturation is present in the molecule, and any lower-ranked substituents will be prefixes.
Alkenes vs. Alkynes: Which Takes "Priority"?
This brings us to a common source of confusion in nomenclature. When an alkene and an alkyne are present in a molecule, which takes priority?
It depends on what you mean by "priority".
For the purposes of the name, "-ene" comes before "-yne" alphabetically. So when an alkene and an alkyne are present in the same molecule, the ending will always be "yne".
For the purposes of numbering, if there is a tie between an alkene and an alkyne for determining the lowest locant, the alkene takes priority.
IUPAC says it this way:
Right. Let's move along to the other functional groups.
Functional Groups That Are Always Prefixes: Halides, Alkoxides, Azides, Nitro
Some functional groups have been deemed unworthy of ever getting their own suffixes. For nomenclature purposes, they are forever out of the limelight, subservient to the -ane, -ene, or -yne ending of the parent hydrocarbon (or "parent hydride", as IUPAC calls it).
These groups include the halides (bromo, chloro, fluoro, iodo), ethers ("alkoxy"), azide and nitro functional groups. Source: Table 5.1, Section P-59.1.9 of the 2013 Blue Book (Page 630).
Some Examples With Multiple Functional Groups
Here are some examples of applying the order of functional group priorities to solve nomenclature problems. The highest ranked functional group becomes the suffix – it's highlighted in red.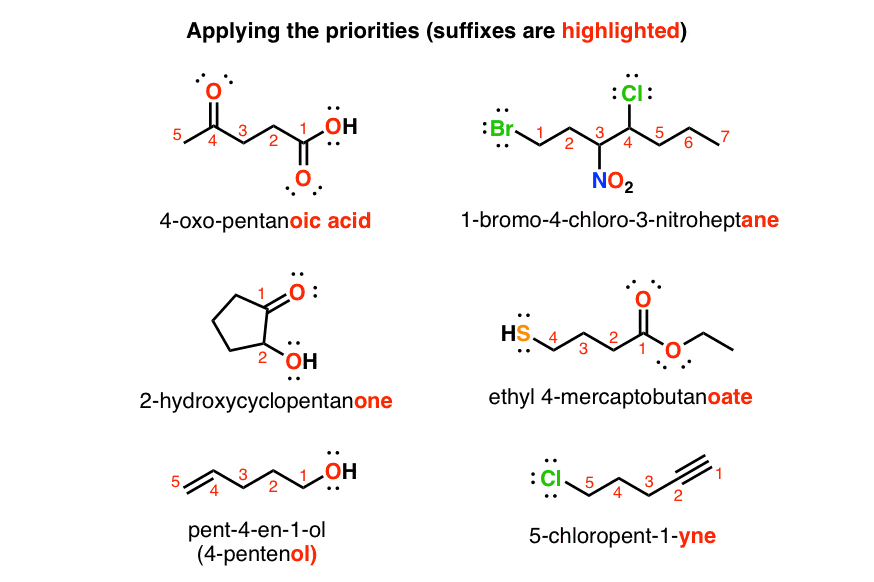 This covers most of the functional groups you'll meet in Org1/Org2.
---
Notes
Note 1. This article takes into account the latest recommendations of the IUPAC Blue Book (2013 edition)]
Note 2. . Just for the record these "rules for seniority" can be found in section P-41 of the Blue Book, page 428 of the 2013 edition.